Generac Generators
Residential and Commercial 

JW Shaw Electric installs and maintains Generac power generators for Home and Business. Generac Generators use Natural Gas or Propane, while protecting the essentials and operating 24/7 regardless of weather conditions or failing power grid from the power utility. Our lifestyles demands lights and power. Without the basics, we are unable to bath our kids, manage laundry, keep food supplies from spoiling, and protect specialty medicines going bad.
Family and work will not stop during outages, knowing Generac Generators will keep you on track. Generac systems monitor power 24/7, the moment power fails and detected. The Generac Generator will start-up and apply power to household and appliances.
If you are on a budget or would like complete power protection, JW Shaw Electric is able to assist you with a basic "Power-On" installation to power the entire property.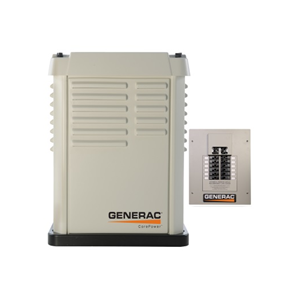 Essential Power Protection Generator Package:
Automatic 24/7 Power Protection
The home standby 7 kW generator is the affordable, automatic alternative to portable backup power. Features include many qualities and reliability of the bestselling Guardian Series, while remaining the affordable home standby generator. Significantly quieter than a portable generator, it protects the home's most essential circuits, like refrigerators, well pumps and select appliances, without having to manually set up during inclement weather, refuel, or run electrical cords.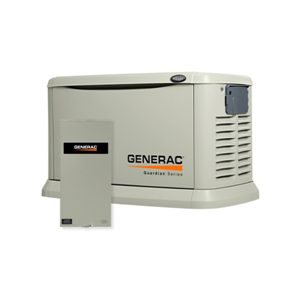 Whole House Protection Generator Package:
Automatic 24/7 Power Protection
Generac's Guardian 20 kW Generator is the most powerful air-cooled generator on the market today, The Guardian Series automatic home standby generator can provide whole-house backup power for many hours. This generator package quickly power-ups your house while monitoring your utility power. The whole house transfer panel will safely power your house during loss of utility power. Your lights, water, foods, heating, and gadgets will operate regardless of the weather conditions.
Luxury Home Protection Generator Package:
Automatic 24/7 Power Protection
This Premium-Grade, Whisper Quiet, Standby Generator is High-quality, & liquid-cooled. Designed for custom built luxury homes with year round pools & pumping systems, multiple A/C & heating units, and other structure's on the same property.
This Larger generator is Turbocharged and fueled by Natural Gas or LP. The engine is reliable, robust and proven for extended power outages. The durable Aluminum Enclosure is Corrosion-resistant and tested with tunneled high winds for integrity. During power back-up conditions, the mobile-link will text your phone of power status, maintenance scheduling, and fault conditions.
| | |
| --- | --- |
| House Monitor | Completely wireless and battery powered, Generac's wireless remote monitor provides you with instant status information without ever leaving the house. Not compatible with CorePower or EcoGen systems |
| Cold Weather Kit | If the temperature regularly falls below 32 °F (0 °C), a cold weather kit is required to maintain optimal battery and oil temperatures. Kit consists of a battery warmer and oil filter heater with built-in thermostats. |
| Scheduled Maintenance Contract | Generac's scheduled maintenance provides all the necessary upkeep to perform complete routine maintenance on a Generac automatic standby generator. |
| Mobile Link | Generac's Mobile Link allows you to check the status of your generator from anywhere that you have access to an Internet connection from a PC or with any smart device. You will even be notified when a change in the generator's status occurs via e-mail or text message. |